Welcome to the 8-bit Archive.  
This site is dedicated to those early days when 8-bit computing was leading edge, competition was fierce and standards had yet to be established.   With the birth of the single ship CPU began an era of personal and business computing where companies such as Apple, Commodore and Tandy Radio Shack brought innovation and affordability home for the first time.   Fully assembled computers meant people could now focus on programming and operating and didn't need to be electronics experts to get started.   Our site is still under construction so many areas may not be complete yet.    Please check back from time to time if what you are looking for isn't here yet.
Looking for technical documentation or where to buy a retro computer featured on this site?  
We have assembled a collection of manuals, schematics, software and tools you may need to fix or upgrade your retro computer.  We have also included some links where you can find hardware and software available for your favorite Retro Computer.  If you want to experience the 8-bit world on new hardware, check out our Home-Brew section as well as our News section to see updates on these and other projects.  
YouTube content providers – are you looking for some free hosting and assistance in getting your retro computer themed channel a website?
 For a limited time only, we are offering a lifetime free hosting package and base design/setup to qualifying YouTube content creators.  If you have a channel dedicated to retro computers and would like to help drive traffic to your site by setting up an interactive website, please feel free to contact us using the contact section from the top menu.  As there are a limited number of slots available, this offer will only be available on a first come, first serve basis.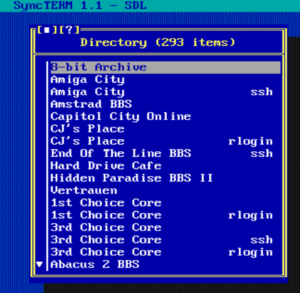 Looking for that nostalgic feeling of signing into an old school BBS on modern hardware?   Don't have an old school modem and traditional phone line?   Want to experience a BBS and high speeds?   Using Putty or for that complete nostalgic feeling, download SyncTerm and get started for free today.
Check out our Internet connected BBS at bbs.8-bitarchive.com.  (Telnet port 2223 )